Hanoi Bible College (Vietnam) graduated its first class of pastoral ministry students in June 2018 and they are currently serving in various locations around northern Vietnam. These young pastors recently gathered for two days to share about their ministries and to pray for each other. Jon Hoglund (Professor at Hanoi Bible College) was there and shares his observations:
"In the midst of some difficult family and life situations, God is working through these young pastors to strengthen the church. They are learning both the challenges and blessings of practical ministry, while also planning and praying about what God would have them do next.
Their experiences are quite diverse. One of the H'Mong brothers shared how in the Dien Bien Phu province the percentage of evangelicals is quite high. They have 300 kids show up for Sunday school in a rural area in the mountains. He is preaching in a circuit for several churches. 
Several students are involved with a church plant in Hanoi where they recently received official permission to meet (a big deal here!). Another student is helping plant the first church in a small town and also received official permission to meet.
Two students shared about feeling out of their comfort zones, as urbanites serving in more rural areas. Both have felt their love grow for those congregations and for God's work among them. 
Please pray for these young pastors to continue serving the church, to grow deeper in their faith, and that God would provide for them in their roles."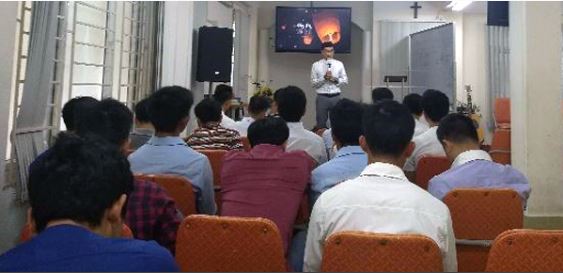 The pastors gathered for prayer.