We have a passion for training Christian leaders in the majority world
and it is our firm belief that this is best achieved through investing in local institutions. By training Christian leaders, we can have a positive impact on the church for generations to come; and in resourcing local theological schools, we leave a sustainable legacy.
Tafakari Centre Is Up!
Tafakari Centre is an establishment in the heart of Kibera—one of Nairobi's largest informal settlements. Its purpose, in the words of the Archbishop of the Anglican Church of Kenya, is to be a "…place that connects people to God and to each other, a place of worship to God, the Jerusalem of Kibera."
The newly completed Tafakari Centre will provide the local church and community with pastoral training, a medical clinic, tailoring courses, a recording studio, a gym, a library, and more. Adopting its mission and practices from the incarnation of Jesus, the Centre seeks to bring hope and restoration to people where they are.
Hanoi Bible College Turns 10!
We give thanks for the 10-year anniversary of Hanoi Bible College (HBC)! reSource's Hua Soo Kee was able to be present for the recent celebrations, in which Pastor Mac exhorted those present to be strong & courageous, moving boldly into the future, knowing that God is with them. Will you join us in praying for Hanoi Bible College and for Vietnam?
Is There Hope?
"Common sense dictates that we flee from a troubled region, while God's calling for the Church is to endure, to discover its prophetic role, to proclaim the love of Christ, to live out Kingdom values, and to exhibit to the world the marks of the reign of God. This is the kind of Church that is needed in the Arab world at a time like this…" – A word from Elie Haddad, President, Arab Baptist Theological Seminary (ABTS)
Training Effective Christian Leaders In Their Context
Giàng (family name) A Slinh (given name) is a 28 year old Vietnamese student studying at Hanoi Bible College in Hanoi, Vietnam. He and his wife have two children. They are members of Grace Evangelical Church in a rural district of Northeast Vietnam where A Slinh participates in church activities and leads the church in worship.
He writes, "When studying at HBC, my family has faced many difficulties. With me at school, my wife has had to bear the burden of raising our children and working. Currently, my wife is suffering from right elbow pain which has been there for 2-3 months. Also, our son has to go away to school and we worry about him."
A message from our partners at Overseas Council. reSource works closely with the Overseas Council network by sharing information and resources, thereby avoiding duplication, increasing efficiency and providing mutual encouragement.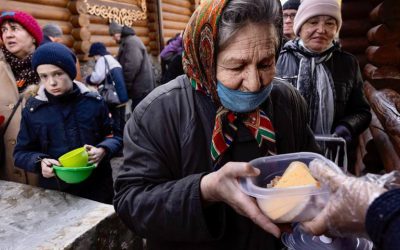 When the war started, seminary leaders in Ukraine understood that meeting immediate relief needs was not mission drift; it was the right response...