All too often leaders and faculty of our partner Bible colleges have come into their positions because someone had to step up and lead. At times they feel inadequate and overwhelmed by the demands of their roles. Imagine teaching in or leading a seminary in the midst of emerging cultural issues like poverty, war, disease, human trafficking and the dominant presence of other religions.
Key to helping these schools improve overall and multiply their influence around the world is supporting leadership and faculty through additional training. We equip the equippers by sponsoring both current and future faculty members. Dedicated study time for faculty improves both their qualifications and capacity to teach and enthuses their students for mission.
Please consider what your role might be in fulfilling this vision. The cost to train a faculty member varies based on region, program and other factors. Faculty sponsorships range from $5,000-$20,000 a year. To donate, click here.
We consistently receive updates from faculty highlighting the impact they are experiencing. We have seen how investing in leaders like Cuong & Trang Le in Vietnam (below) can have an enormous effect upon the church in his or her country.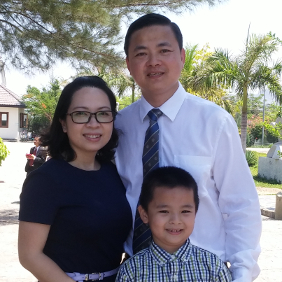 Thank You
We give thanks to the Lord for his indescribable blessings upon our life! We are also very grateful to reSource for their generous support! Without it I would definitely not have been able to complete my Doctorate Degree and my wife Trang her Master of Divinity with Librarianship program.
I had already received my Master of Theology in 2006 and was teaching in our church's new seminary (the Institute of Bible and Theology in Ho Chi Minh City, Vietnam). It had just been reopened in 2003 after being closed by the Government in 1976. There is a great ongoing need for faculty development in our Seminary.
I had prayed and longed for continuing my doctorate in order to contribute to meeting this need and to also help the Seminary meet government requirements. I give thanks to God for answering my prayer through reSource. In the special context of our church and country, we had to go through a lot of steps in order to go abroad for studies. We also faced the problem that the Government of Hong Kong has a policy of not welcoming Vietnamese students. We praise the Lord for opening doors so we finally could do our advance studies.
There are also a lot of challenges for a doctoral student who writes a dissertation, and I am no exception. During the last two years of my study I had been suffering with headaches and dizziness. I praise the Lord for helping and guiding me to be able to complete the tasks of writing and successful defense. We give thanks that at the beginning of 2016 we started our teaching ministry at our church's new seminary, the Institute of Bible and Theology in Ho Chi Minh City, Vietnam. I am Assistant Professor in New Testament and Trang serves as Head Librarian. Praise the Lord!
Thank you very much for accompanying us with your love, prayer, and great help! We pray and believe that God will continue to bless this meaningful ministry of reSource so that there will be more and more young people who are equipped under your sponsorship to serve and glorify the Lord.
Sincerely yours,
Cuong and Trang Le (and son Andy)