As we informed you in our last Newsletter, the first phase of our Shoulder to Shoulder Strategy is to assist Bible colleges with their online capacity through upgrades to IT, cameras and learning materials on the web. What we are beginning to witness is what we had hoped and prayed for. Colleges that are equipped to educate online are positioned to reach a much larger audience, thereby multiplying their impact. As schools deal with the impact of the corona virus, we are seeing the promises of God being fulfilled, where "the Spirit helps us in our weakness" and "God works for the good of those who love him…" (Romans 8:26 & 28).
One partner college where God's goodness is so evidenced is the Alexandria School of Theology (AST). AST began in 2005-06 with campuses in Cairo and Alexandria, Egypt. In fulfillment of their mission of "serving the Kingdom of God and growing Christ's church through theological and spiritual formation of Christian leaders," AST expanded their influence in 2013 by establishing a presence in Tunis, Tunisia and in Gambella, Ethiopia (a school serving mostly South Sudanese refugees who have fled over the border).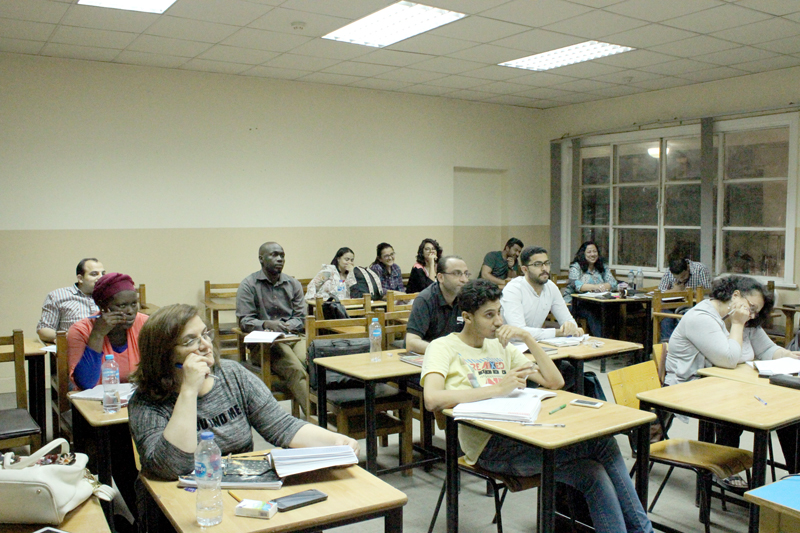 Students at Alexandria School of Theology
When COVID-19 hit in mid-March, AST discontinued in-class education. They were in a quandary as to what to do. As Professor Shady Anis relates, it was a great struggle:
"After a time of frustration and disorientation, we were able to convene the semester online. We resisted going online (it is not common in Egypt) and it was very difficult for both lecturers and students to adjust to the new situation.  However, while the pandemic posed a great challenge (and danger) to AST, we now see how God has been working through it.

During the past few years, we have been contacted numerous times by people from Sudan and other Arabic countries asking to join our theological programs. With our limited and overstretched faculty, we were unable to help. However, with the generous help from Overseas Council Australia (OCA) and reSource, we will now be able to reach these countries and equip native Christians to be faithful bearers of the Gospel of our Lord Jesus Christ. We praise God that the equipment donated will not only enable online education at AST, it will also help us reach into these other Arabic countries."
(To learn more on how we are helping AST and other schools in Africa, watch this video of The Africa Mile Deep Strategy from OCA.)
Pictured below: Dr. Samy Shehata, Bishop of North Africa and principal of AST, and Shady Anis, Professor at Alexandria School of Theology.