Overseas Council's region of Europe encompasses Europe and the republics of the former Soviet Union in the Caucasus and Central Asia. The entire region is home to 733 million people, but by 2050, this number is estimated to shrink to 653 million. Meanwhile, the population of Central Asia and other Muslim areas is estimated to rise considerably. The region includes countries like Germany and Hungary with centuries-old seminaries, as well as countries like Azerbaijan where steps toward Christian leadership training are being taken. Throughout the continent, institutions are struggling to find ways to provide training that is accessible and beneficial to the Church. Overseas Council's partners are on the forefront of this effort.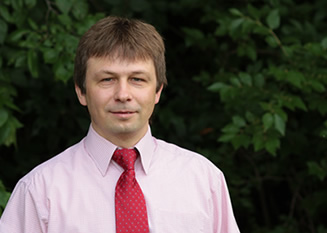 Taras Dyatlik
OC-USA Regional Consultant for Euro-Asia
"What Ecclesiastes 11:1 says is true for me: 'Ship your grain across the sea; after many days you may receive a return.' I am really thankful to the Lord for providing theological education for me through two Overseas Council partner schools, as well as my current opportunity to serve Him with Overseas Council as Regional Director. I pray that the Lord would use me to multiply and raise up ministers in His Church through theological education and humble leadership."
"The roots of theological education in Europe are deep, and the tradition we witness today is at the same time rich and impoverished. It is a privilege to serve theological education through Overseas Council in Europe."
Major Trends In Theological Education In Europe
A new generation of leaders must be raised up and trained. This need has reached crisis proportions in much of the Catholic, Orthodox and mainline Protestant denominations with the rapid aging of the faithful, the lack of young people and the shift in culture. The need remains urgent for committed, culturally aware and biblically sound leaders who can pastor, teach, evangelize and plant churches in places where there are none. Bible colleges and seminaries face a challenging task in producing such leadership. Operation World
The growth of secularism is a major concern for both the Church and seminary. It has resulted in the decline of church membership and seminary enrollment. Seminaries in the region are developing creative ways to reach out to churches and communities by offering training online, at churches in the evenings for professionals and on campus.
Reconciliation remains a crucial issue for the Balkan countries. As we partner with seminaries in Serbia, Croatia, Bosnia, Bulgaria and others in the region, it is evident that theological education needs to train future Christian leaders in reconciliation and peacemaking.
Evangelical theological education has become more interdenominational. Schools are learning more and more how to cooperate together in training Christian leaders. For example, the Euro-Asian Accrediting Association consists of 54 evangelical schools (24 Baptist, 20 Pentecostal, 10 other evangelical denominations). Taras Dyatlik, Regional Director for Euro-Asia