This initiative is now closed.
For current needs, please contact us or see our online donation page.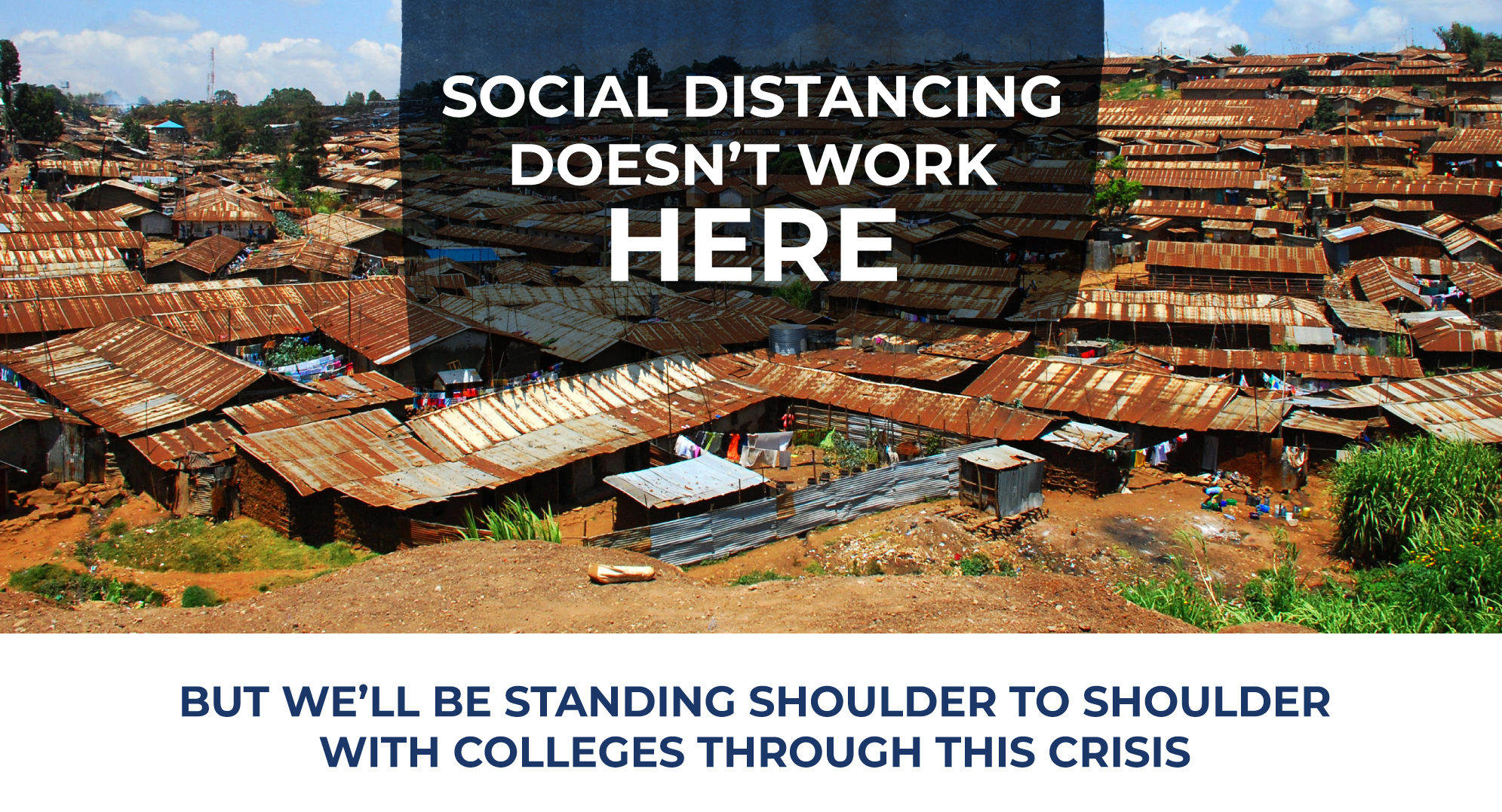 The full impact of the COVID-19 crisis on our lives, our livelihoods and on the state of our nation, is something we are all grappling to comprehend. We can barely imagine what the predicted and disproportionate impact of COVID-19 will be like for people living in the developing world.
The Shoulder to Shoulder strategy is a former initiative which you can read about below. This strategy has been replaced by Local Online: A Global Strategy.
Our partner Bible colleges serve mostly in countries without accessible and  dependable technology to support learning and work. They do not have wealthy governments capable of replacing wages or the economic infrastructure that ensures the supply of food and health essentials. Even less do they have world-class health systems. The developing world is facing not only a potentially insurmountable health crisis in the short term, but a devastating social and economic crisis over the months and years to come. Supporting our partner Bible colleges during this global emergency is a critical priority for Overseas Council Australia and reSource Leadership International.
Our partners are facing a series of institutional crises that mirror their own nations. These include an instant shift to online education requiring new resources and upskilling for faculty and students. As we've seen in other disaster situations, colleges will naturally step in to support those who have lost work, those who are sick, the vulnerable and traumatised.
Most partner colleges have moved to online lectures, but few are proficient. They need help to provide comprehensive online learning experiences.
Leading partner colleges throughout the Pacific, Latin America, Eastern Europe, Asia, Middle East and Africa will soon come under enormous stress, far worse than anything we have seen in China, Europe, Italy and Spain (or what might happen in North America). If wealthier countries lose hundreds of thousands of lives, it is not unrealistic to expect far greater devastation in developing world countries. The cramped conditions in slums and the low capacity of hospitals are indicators of how the crisis will proceed.
This is essential – The training institutions for Christian leaders must continue.
More is possible – we want to do more – and we are standing shoulder to shoulder with leading institutions to meet the challenges that have already begun. Not for their own sakes, but for the sake of the global church, which will minister throughout this crisis and in the years ahead.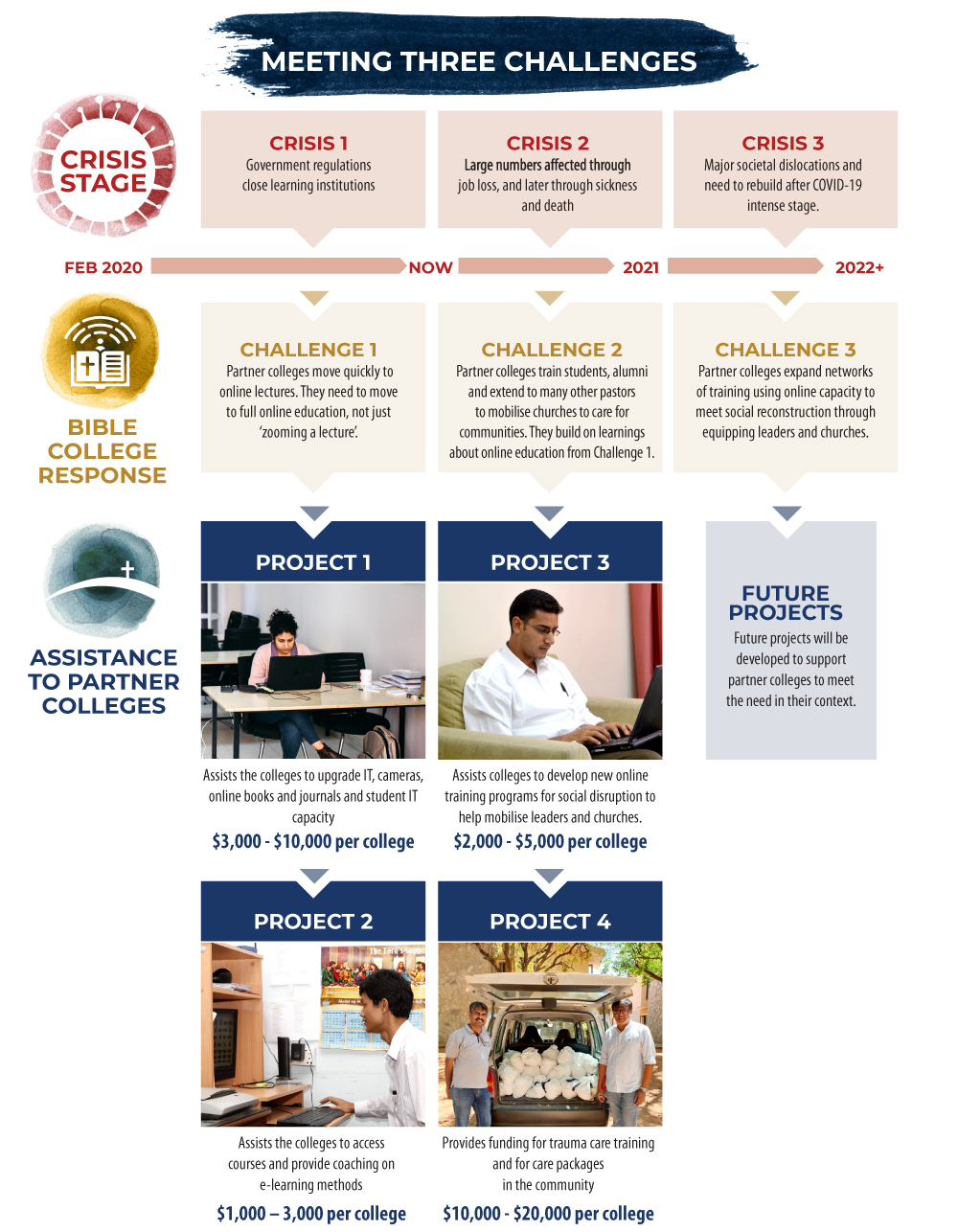 Strategy Summary  |  September 2020
Schools that reSource is committed to
Alexandria School of Theology, Egypt*   ($17,300)
Biblical Seminary Colombia, Colombia   ($6,700)
Colombo Theological Seminary, Sri Lanka*   ($10,500)
George Whitefield College, South Africa*   ($15,000)
Hanoi Bible College, Vietnam   ($13,800)
Kigali Anglican Theological College-EACC, Rwanda*   ($14,000)
LAMAU-Lake Malawi Anglican University, Malawi*   ($23,400)
Madras Theological Seminary and College, India*   ($6,400)
St Paul's University, Kenya*   ($11,400)
Ugandan Christian University, Uganda*   ($5,100)
Total:   $123,600
* Schools that reSource is supporting in joint partnership with Overseas Council-Australia:
Note:
1. Cost figures reflect reSources' commitment to the school
2. As reSource & OC-A has agreed to a 50%/50% split for most projects, the schools involved will be receiving around twice the amount stated in the table above
**Funds raised in excess of this amount will be used to support additional schools not on this list
News & Stories | Shoulder to Shoulder Project Updates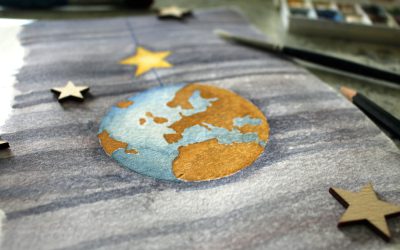 In this season we join with Christians around the world to celebrate Christ's first coming. God became flesh and shed his blood so we 'flesh and blood' folks may share eternally in His resurrection life. "In Christ all the fullness of the Deity lives in bodily form, and in Christ you have been brought to fullness" (Colossians 2:9-10). This is our Advent hope, as we anticipate Christ's return to fulfill his promise and make all things new.
read more